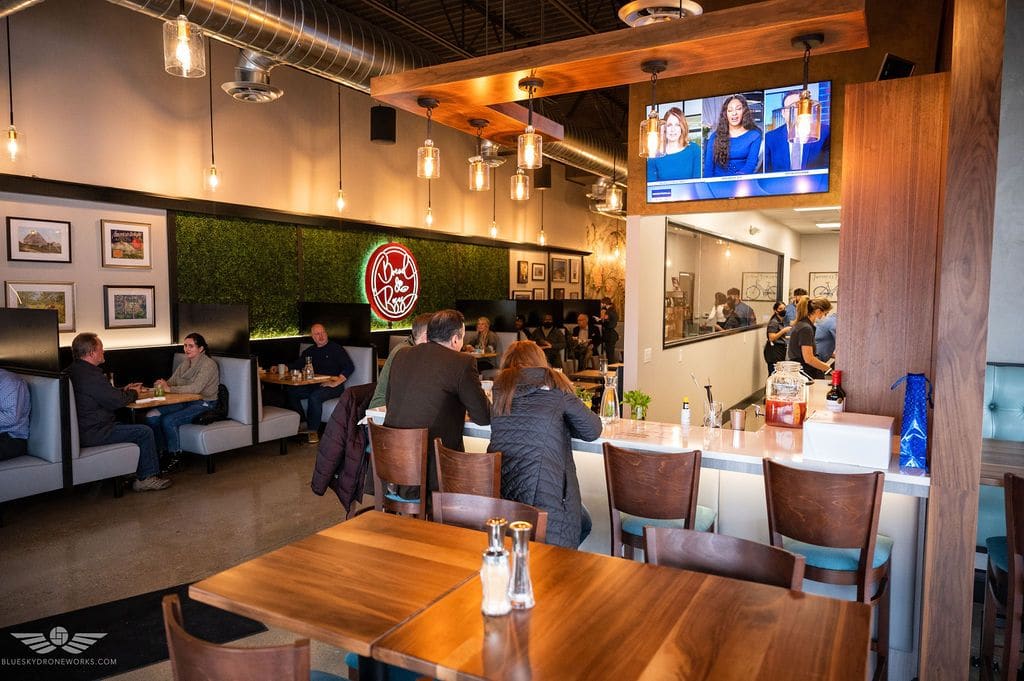 Looking for the perfect lunch spot? Bread & Roses is it; we just know it. In addition to our extremely meticulous ingredient selection process in which we choose only the freshest local, whole foods for every delicious dish, our actual menu is massive and you can have whatever you want!
CHOOSE ANY TWO FOR YOU
One of our best and most popular deals is our "Choose any two for you" deal, which allows you to try out two different lunch entrees at once. You can get:
½ Sandwich: Choose from half a B&R Club, BLT, Grilled Portabella, or Grilled Cheese
½ Salad: Choose from half a B&R Fruit Salad, Mexican Street Salad, or House‑Dressed Mixed Greens
Cup of Soup: Choose a nice hot bowl of Chicken Noodle Soup, Tomato Basil Soup, or our Soup of the Day
Seasoned Potatoes: Choose a side of perfectly tender, seasoned potatoes to accompany your meal
Fresh Seasonal Fruit
Sandwiches
Don't want just half a sandwich? Check out our full sandwich menu! One top of the three sandwiches available with our "choose any two for you" deal, we also offer The Ultimate B&R Cuban and spectacularly Crispy Tofu Banh Mi Sandwiches – which are served with a side of house-dressed mixed greens, seasoned potatoes, or a bowl of soup anyway!
Salads
Too hungry for just half a salad and a small side? Choose one of our more hearty salads. We have B&R Fruit Salad, a Panzanella Salad, and even nutrient dense Ahi Tuna Bowls! If you want, you can even add a protein to our salads. Choose from marinated chicken, tofu, or roasted salmon. Each salad is, of course, paired with one of our fresh artisan baguettes!
Breakfast For Lunch
Don't feel like having a traditional soup, salad, or sandwich lunch today? No problem! It's impossible to forget about our remarkably healthy breakfast menu full of both sweet and savory treats full of all the nutrients you'll need to stay energized the rest of the day. We have a carefully crafted Nutritious Corner menu full of gluten-free options packed with protein and vitamins, like Avocado Toast, our Farm Greek Yogurt Bowl, and Steel Cut Oats topped with seasonally fresh fruit and nuts. Our Sweet Creations menu offers all the treats that make breakfast the most fun meal of the day, like Lemon Ricotta Pancakes, custard-dipped French Toast, and customizable Crepes for an amazing mid-day pick-me-up. Or, choose one of our protein packed egg/omelet dishes, like Huevos Rancheros or The Hash Bowl with house made chorizo, sausage, bacon, caramelized onions, and cheddar cheese. Just know no matter what you choose, you won't be disappointed.
Gluten-Free
If you have a serious gluten allergy, be advised that our menu here at Bread & Roses contains a tremendous number of gluten-free breakfast and lunch items. All are clearly marked as "gluten-free" right on the menu, and you can always talk to your server if you have any questions. By effectively communicating your needs to our staff, especially regarding food allergies, we can more easily guarantee you an undeniably safe, positive dining experience you'll want to enjoy again and again!
So, feeling hungry yet? If so, grab a friend, or five, and head over to Bread & Roses for a classy yet comforting lunch none of you will be able to stop thinking about. We'll warn you though, choosing to host your lunch outing at Bread & Roses will likely have all your friends putting you in charge of group meals from now on!
If you are looking for the best breakfast, brunch, or lunch restaurant in the Shelby Township area, stop into Bread & Roses today at 56258 Van Dyke Ave. Shelby Township, MI 48316, order a carryout by calling (586) 697-5781, or order delivery online: